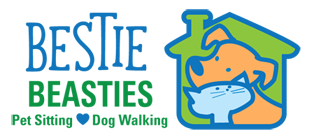 Serving Melbourne, Palm Bay, Suntree, Viera, Melbourne Beach, Indialantic, Indian Harbor Beach, Satellite Beach


Pet Sitting & Dog Walking
Meet Your Pet's New Bestie!
We would love to care for YOUR Bestie Beastie!
Services
Pet Sitting
Dog Walking
Overnight Pet Sitting
Qualifications
Insured
Bonded
Pet First Aid Certified
Let us be your pet's best friend while you're away!
It is hard to leave your fur- or feather- babies behind when you leave home. It's hard on them, too.
We can make the separation easier for both of you.
Your pets will be in their own home, where they are comfortable and without the chaotic environment and contagious illnesses sometimes present in boarding situations.
Their routines will stay the same; they'll be fed and walked as close to their normal times as possible.
They will get one-on-one attention from their own personal pet sitter for walking, playing, and cuddling.
Their pet sitter will be able to administer medications and monitor your pet for signs of illness. And their pet sitter knows what to do if a problem occurs.
Your pets' food and water bowls will be cleaned regularly. Any pet messes will be cleaned properly so as not to damage floors and furniture. (We will use your products if you prefer.)
You will also have the peace of mind knowing that someone is keeping an eye on your home, making it look lived in, bringing in the mail, etc. Problems like leaks can be caught quickly, potentially saving you lots of money.
Your home will look lived in, and someone will be there at night to discourage criminals from targeting your home.
You won't have to worry about dropping off or picking up your pet when you're rushed and tired. Your fur baby will be home eagerly waiting to give you kisses!
Our Philosophy
We bring our own stuff (bedding, snacks, etc).
We clean up after ourselves (and your pets).
We leave no trace (except happy and well-cared for pets!).